It's incredibly hard as an independent/self-published author to find success. Matter of fact, it's incredibly hard finding success as an independent 'anything' (be it author, entrepreneur, artist etc.).   I know and have experienced (still experiencing) this difficulty first hand. When I decided I wanted to write my first book E.X.O. – The Legend of Wale Williams, I was terrified. I was a first time author who knew nothing about building a fan base, PR or getting my books out there. One thing that did help though is I had 7 years of experience in Web Design, Branding & Online Marketing. So I took myself on as my first client. I had very lofty goals like being interviewed by huge news sites and blogs. At the time they seemed unreasonable, but I believed so much in myself and my product that I laid out a plan to reach those goals. 6 months later my book was indeed featured on CNN, Forbes, Mashable, The Huffington Post, BBC and more! So today I want to share some of the things (That I've sometimes had to learn the hard way) that can help you sell more books!
1. Get a Professional Looking Website, Or If You Have An Out-dated One, Redesign It
I can't STRESS this enough. If you don't have a website, get one now! If you have an out-dated one, PLEASE update it. Look at it from this perspective, how many times have you wanted to hire somebody or buy someone's products and then you try to find them online and boom nothing. Or you find a website and you can't even navigate to the shopping cart cause the site has less than stellar usability. Or more recently, you try to access the website on your phone and it's non-responisve (not mobile friendly). What do you do? You simply move on. These days everyone is way too busy to give you a second or third chance so it's so critical you have a great first impression. You NEED a professional looking website. One that can act as the face of your brand (more on this below) online. One where you can promote yourself as a brand as well as sell your products (books, merchandise etc). Like it or not, every online/offline marketing effort (social media marketing, email marketing, press appearances etc.) revolves and leads back to your website. It's the hub were your readers, current and future, come to find information about you and your products. So it's imperative you get this part right. My advise is to hire a professional who knows what he/she is doing. In the long run you will save time, money and avoid the headaches that come with building a bad website or trying to do it yourself. The only time I recommend do it yourself platforms such as Wix & Square Space is if you naturally have an eye for design and/or basic posses basic coding skills.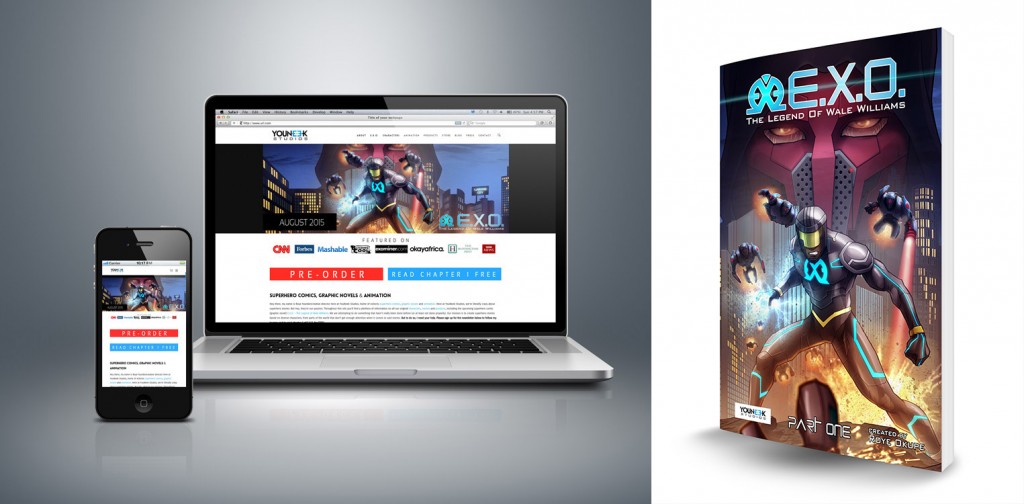 2. Start Building An Email List NOW
Facebook, Twitter, Google, YouTube, LinkedIn. These are all excellent places you can market yourself and your book if you know what you're doing and have the budget. But there's a downside. Social media platforms and Google change their settings/algorithms every so often. So in essence, if you rely only on these platforms you are at the mercy of any changes they decide to make at any point in time. However, with an email list you can carry your fans, clients and customers (current and future) anywhere and everywhere! Plus, email is a great way to nurture people who are still on the fence about buying your book. With Facebook for instance, someone who is thinking about buying your book may or may not see that link you posted on your page with the 30% promo you're offering. With email, it will be sitting directly in their inbox. Just think about it, if you're are like me you check your email multiple times a day (I check more like 30 times a day but that's a different story), and I at least read (okay maybe skim) every subject. If I come across something from someone I'm a fan of or warming up to, I would more than likely open it. So make sure you build your list online by adding sign up forms to your website and social media pages and offline by collecting emails at speaking engagements, book signings, conventions etc. Building a strong list takes time, so it's better to start as soon as possible. There are many free email lists services you can get signed up with right now. Mailchimp (which i use), Constant Contact, Aweber just to name a few.
3. Build a Consistent Brand
You cannot, I repeat CANNOT underestimate the power of strong brand. If you doubt that then check out the picture below I saw on Eric Scott's answer to a Quora questions I saw this morning.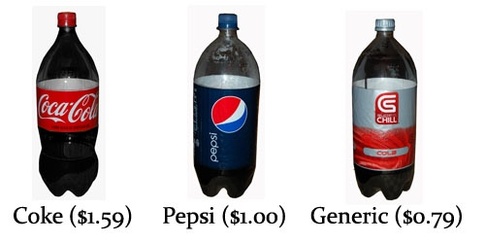 In the post Eric asks "Is paying almost twice as much for Coke over a bottle of generic soda too much?" and then proceeds to answer his own question:
In blind taste tests, most folks can't tell the difference, yet they open their wallets every day and pay the money anyway.  Why? 
Brand.
A strong brand carries a lot of weight:
people fear the unknown.  What does "chill cola" taste like?  Is it refreshing like Coke?  Does it give me that little extra at 3pm to make it through my next meeting?  Will people think I'm cheap or different if I drink something different from them?
consistency.  You'll know you can count on it.  You'll get what you got last time.
social proof.  We assume when everyone's doing it, there's got to be a good reason.
history.  Coke's been around since 1886.  History is powerful.
I couldn't agree more! Which is why I think as much as you promote your book, you need to promote yourself and/or your company (if you have one). For instance, for my book E.X.O. – The Legend of Wale Williams Part One, I released it under YouNeek Studios. YouNeek Studios is a separate brand I set up for my graphic novels. So as much as I promote book, I also try to promote my "brand" (myself as the author and the company I set up as well). I decided to start YouNeek Studios becuase I believe it gives me more credibility and allows me to have a central place for me to house all the possible products that can spawn from my books (my store, my blog, merchandise, clothing etc.), but you can achieve the same results by branding yourself alone as an author.
So when I go for conferences I have my business cards ready, when people need more info I hand them over a flyer, brochure or direct them to my website, when I need to do some promotion I create a branded YouTube video and so on. Combining all these things together into one living and breathing entity is in fact building your brand. It's also very key that you maintain consistency across all platforms from your logo, to business cards, to website, to videos etc. They should all look, feel and send the same message. People respond to consistency, it automatically sets you apart. As with the website, I would also advice you get in touch with a professional designer or firm who can really put things together in terms of your logo, business cards, flyers, videos etc. Although branding does go way beyond these items, it in no doubt hinges upon them. Again, if you are strapped for cash, try cheaper solutions such as Vistaprint to at least get you going.
4. Try To Talk About The 'Story' Behind The Story
Sometimes people ask how I managed to get big bloggers to write about my book. And while it did involve a lot of cold emails, strategic relationships, research and luck, one thing that most definitely helped seal the deal was my story. And not the story in my graphic novel, but my journey creating the book. I call it the "story" behind the story. You need to tell people about the 'why' as opposed to the 'what', at least initially. Why are you writing the book, what's the motivation behind it, how would you describe your journey from script to shelf, the struggles & triumphs behind getting it out. These are all the things that make you unique and set you apart from millions of other authors. For example, when I was trying to promote my book in the early stages, I decided to tell people more about how difficult it was trying to create an African superhero graphic novel (to see more on that story follow this link) and the many mistakes I made (and am still making) along the way. Also, I decided to incorporate my story into the hook of my book. I was born and raised in Nigeria and always dreamed about creating a superhero story from there. So anytime I tried to pitch to a blog or anyone else who I believed could help with exposure, I always mentioned how I was chasing my dream and how I wanted to inspire others to do so as well. Not that I never mentioned how great the story of my book is (which it absolutely is!), but I never lead with that. People are much more willing to learn about your product when they can identify with you and your story at some level. So find what makes you and your book unique and come up with a way to connect your "story" with your story.
5. Help Other People
As an author it would be disingenuous for me to say selling as many books as possible is not one of my top priorities. While it is, there are few things (at least for me) that come close to the feeling I get when I help someone achieve their own goals. Whether it's answering a question on social media, giving advice via phone or email, or just simply encouraging a fellow author/entrepreneur, it truly is a rewarding experience. And I encourage you to help as many people as you can as often as you can. I am still trying to get better at this, but with the little I've done, I can truly say it has helped me as an author and a person. More often that not, it comes back full circle.
There you have it, I'm sure there are many more things that can be done to help sell more books, if you have additional suggestions or questions, please fire away in the comments! Alternatively, you can reach me directly at +1 2404326214 or info@royeproductions.com for help with Web Design, Branding & Marketing. If you're am author and you need help with any of the above follow this link for more info